An introduction to the future of CRM: SAP Sales and Service Cloud V2
SAP recently presented the latest generation of CRM by revealing its new and improved versions of SAP Sales and Service Cloud. As a CX front-runner, Canguru Solutions will guide you through the journey of discovering these new tools step by step (or blog by blog) in the coming weeks.
But before diving into the specifics, let's start with the most important question: why?
Why?


The truth is, SAP had to adapt to the new macro-economic changes of the past year and accommodate the needs and expectations of today and tomorrow. A lot has changed in recent years and, unfortunately, not all of them have been positive. The current macro-economic disruptions are impacting almost all companies, from B2B to B2C, throughout the entire supply chain.
Furthermore, the rise of the Millennials and Gen Z is having a major impact on companies, both internally and externally. These generations are more connected than ever. As customers, they demand a better customer experience and require expert support across various channels. As employees, they expect a fast, user-friendly, and intuitive tool that can capture data from anywhere and is available on all devices.
Because of these disruptions, companies need to be more flexible, react faster and be more innovative than ever before. If unable to adapt, established and premium brand companies will find themselves outcompeted by new companies and start-ups who are more flexible and move faster in these ever-changing market conditions.
To help companies support their customers and not only retain existing sales but drive new business, SAP developed the new Sales and Service Cloud 2.0 for next-level CRM.
What's new?
In short, the new sales and service cloud systems have been improved in two ways:
1. underlying technology 2. embedding of respective add-ons*
* Intelligent Sales Execution for Sales Cloud 2.0 and Agent Desktop for Service Cloud 2.0
Underlying technology
The underlying technology has been transformed to accommodate the most important aspects of any system: uninterrupted solution availability and better performance. The entire system is built on an API-first/microservices technology approach that allows more flexibility and integration options than ever before.
This system can be further tailored to a company's needs by complementing the core with own applications with no code/low code tool sets (SAP Build). For more information on the technological upgrade, follow our upcoming blog post. Can't wait? Reach out and we will get in touch ASAP!
Embedding respective add-ons
In the old Sales and Service cloud systems, the functional capabilities and UI could be upgraded by purchasing separate add-ons. In the new versions, the Intelligent Sales Execution Add-ons make up the core of the Sales Cloud 2.0 system and the Agent Desktop add-on gives shape to the core of the Service Cloud 2.0 system. Functionalities available in the 1.0 systems are being built around that core. Some of them are already available, while others are still in development. Let's take a look at what is already available.
Intelligent Sales Execution Add-Ons
Overview on key functionalities
Both the Sales and Service Cloud V2 do not yet cover all functionalities and still have a way to go to catch up to the broad range of functionalities available in the current versions. More about the roadmap of these two products later. Despite the discrepancy between the versions, a strong and extensive core is already available in V2. The table below displays some of the key functionalities already available.
Key functionalities of Sales and Service Cloud V2
What does it look like?
The general look and feel of the system is very pleasant. Navigating the system from one place to another is much faster and smoother than in the older versions. Increased connectivity between objects allows for a more efficient use of the tool.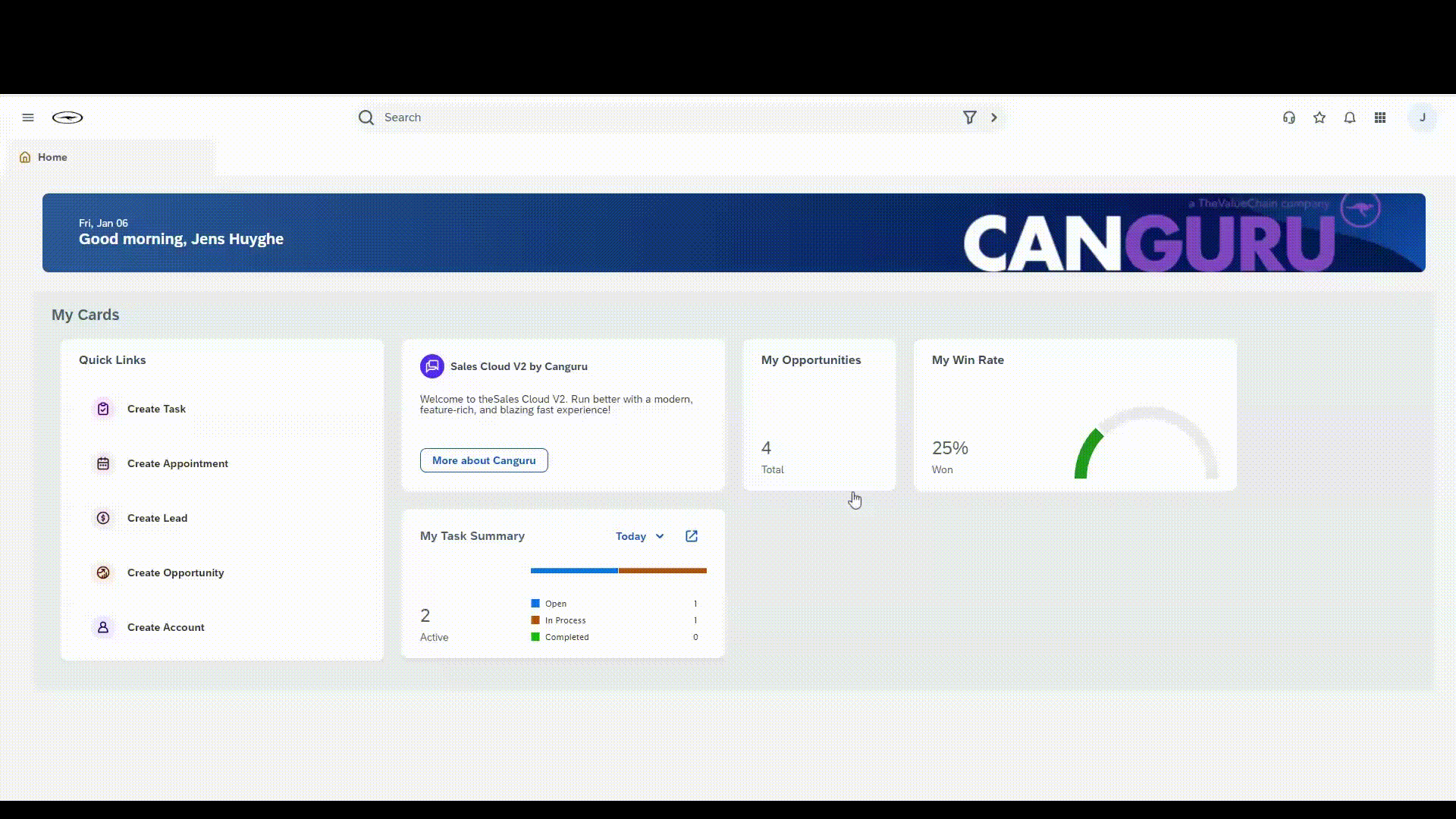 A few impressions of the system (click on the image below to open the gallery)
Also, new is the task manager, which works as a very useful planning tool that allows tasks to be created and maintained in an efficient way. It provides an overview of the current day or a scheduled overview of all tasks planned in the future.
What's next?
In the next coming weeks, more blog posts will be added about these new solutions. Some topics you can expect:
Technical architecture and extensions on SAP Sales and Service Cloud V2 using SAP Build

Account management in Sales and Service Cloud V2

Guided selling in Sales Cloud V2

Case management in Service Cloud V2

Reporting in Sales and Service Cloud V2

System configuration in Sales and Service Cloud V2

Integration possibilities in Sales Cloud V2

Integration possibilities in Service Cloud V2
Eager to find out more? Follow our blog updates!Can't wait for more posts, interested in a demo or do you have additional questions? Let's get in touch!